Better Fat Loss with a High-Protein Diet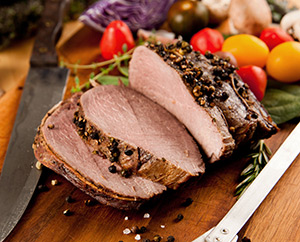 People on the high-protein diet lost more weight due to body fat loss than people in the normal-protein diet group
The increasing popularity of high-protein diets has raised concern about the possibility of long-term harm, especially bone loss. According to the FASEB Journal, however, a short-term low-calorie, high-protein diet may lead to greater fat loss and better preservation of muscle and bone than a low-calorie, normal-protein diet.
What's in a high-protein diet?
In the study, 39 physically active people who were normal weight or overweight, but not obese, were put on one of three diets:
the normal-protein diet provided the recommended dietary allowance (RDA) for protein: 0.8 grams per kilogram of body weight per day (64 grams for an average 175-pound man and 47 grams for an average 130-pound woman),
the high-protein diet provided twice the RDA (128 grams for an average 175-pound man and 94 grams for an average 130-pound woman), and
the very-high-protein diet provided three times the RDA (192 grams for an average 175-pound man and 141 for an average 130-pound woman).
On all three diets, less than 30% of daily calories were from fat, and the total number of calories consumed per day was determined by weight for each individual in the study. For the first seven days, calorie consumption was intended to maintain weight, but for the next 21 days, calorie consumption was reduced in order to trigger weight loss.
Eating protein leads to less body fat
Throughout the study, the researchers monitored body weight, body composition (muscle, fat, and bone mass), and rate of muscle tissue production. They found:
During the low-calorie phase of the study, the average weight loss was 3.2 kilograms (about 7 pounds) and was similar in all of the diet groups.
People on the high-protein and very-high-protein diets lost more weight due to body fat loss than people in the normal-protein diet group. They also lost less of their lean body mass (including muscle and bone) during weight loss.
Muscle tissue production during the weight-maintenance phase was maintained during the low-calorie phase in both the high-protein and very-high-protein diet groups, but muscle production decreased along with calories in the normal-protein group.
Weight loss, changes in body composition, and rates of muscle production were the same in the high-protein and very-high-protein diet groups.
"The major finding from this controlled, human trial was that consuming dietary protein at levels above the RDA spared fat-free mass while promoting the loss of body fat in response to short-term, moderate energy deficit [calorie shortage]," the study's authors said. In addition, their findings suggested that increasing protein intake above twice the RDA did not add extra benefits.
Short-term protein power
Although the long-term safety of high-protein diets is still in question, this study shows that a high-protein weight-loss diet may protect bones and muscles in the short term. If you're considering a high-protein weight-loss diet, be sure to consult with a healthcare professional about these and other options for increasing intake:
Fish. Like beef, chicken, and pork, a 4-ounce serving of fish may have between 20 and 30 grams of protein.
Beans and soy. A cup of cooked beans gives as much as 20 grams of protein, a half-cup of tofu has 10 grams, and a half-cup of tempeh (a fermented soy food) has about 16 grams.
Cheese and eggs. A half-cup of cottage cheese has 15 grams of protein and a couple of eggs has about 12 grams.
Peanut butter. You'll get 8 grams of protein from 2 tablespoons of peanut butter.
(FASEB J 2013;27:3837–47)
Maureen Williams, ND, completed her doctorate in naturopathic medicine at Bastyr University in Seattle and has been in private practice since 1995. With an abiding commitment to access to care, she has worked in free clinics in the US and Canada, and in rural clinics in Guatemala and Honduras where she has studied traditional herbal medicine. She currently lives and practices in Victoria, BC, and lectures and writes extensively for both professional and community audiences on topics including family nutrition, menopause, anxiety and depression, heart disease, cancer, and easing stress. Dr. Williams is a regular contributor to TraceGains Newswire.
Copyright © 2021 TraceGains, Inc. All rights reserved.