For Better Health, Walk to Work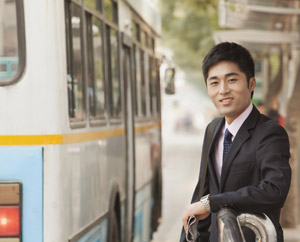 People who walk, bike, or take public transportation are significantly less likely to be overweight or obese than those who commute by car
The
American Journal of Preventive Medicine
reports that people who "actively travel" to work—by walking, biking, or taking public transportation—are less likely to have certain
cardiovascular disease
risk factors.
The power of exercise
Besides the visible benefits, regular physical activity pays off when it comes to overall health. Exercise helps keep blood pressure in check, lowers triglycerides and raises HDL- ("good") cholesterol levels, improves insulin sensitivity, decreases pain, improves mood, increases energy, and combats insomnia.
Many people, though, find it hard to squeeze one more activity into an already busy day. If that's the case, teaming up the daily commute with exercise might be a win-win combination.
Enter "active travel"
The study surveyed almost 51,000 people living in the UK about their commuting habits. The participants also gave information about their height and weight (to calculate body mass index, or BMI), ethnic group, socioeconomic status, and presence of diabetes, high blood pressure, and overweight or obesity. Here's what the results showed:
Most of the people (69%) used private transportation to get to work, while 16% took public transportation, 12% walked, and 3% rode a bicycle.
People who used any form of active travel were significantly less likely to be overweight or obese than their car-driving counterparts.
Walking or cycling to work was associated with a significant reduction in diabetes risk.
Walking was associated with a significantly reduced risk of high blood pressure.
All ethnic groups (other than whites) were more likely to take public transportation or to walk than were the white participants.
"These groups tend to be disproportionately affected by cardiovascular disease, fatal injuries caused by cars, social exclusion, and pollution, all of which can be improved through a modal shift to cycling, walking, and using public transport," commented the researchers.
Sneaky exercise
Besides riding your bike or walking to work, here are some ways to move more without giving up too much time:
Park far. Shoot for the furthest parking spot from the door at the mall or grocery store. Those extra steps all add up.
Take the stairs. Tired of waiting for the elevator? Get your heart and legs pumping by climbing the flights instead.
Break it up. If you don't have a full hour to devote to working out at the gym every day, try to take at least three, ten-minute brisk walks around the neighborhood or office building throughout the day.
Make it your leisure time. There are more fun ways to work out now than ever, from Zumba to CrossFit to Ultimate Frisbee. Find one that appeals to you and enjoy the road to better health.
(Am J Prev Med 2013;45:282–8)
Kimberly Beauchamp, ND, received her doctoral degree from Bastyr University, the nation's premier academic institution for science-based natural medicine. She co-founded South County Naturopaths in Wakefield, RI, where she practiced whole family care with an emphasis on nutritional counseling, herbal medicine, detoxification, and food allergy identification and treatment. Her blog, Eat Happy, helps take the drama out of healthy eating with real food recipes and nutrition news that you can use. Dr. Beauchamp is a regular contributor to TraceGains Newswire.
Copyright © 2021 TraceGains, Inc. All rights reserved.