Vitamin C
Also indexed as:Ascorbate, Ascorbic Acid (Vitamin C), C Vitamin, Ascorbyl Palmitate, Ester-C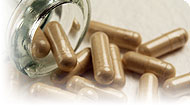 How to Use It
The recommended dietary allowance (RDA) for vitamin C in nonsmoking adults is 75 mg per day for women and 90 mg per day for men. For smokers, the RDAs are 110 mg per day for women and 125 mg per day for men. Most clinical vitamin C studies have investigated the effects of a broad range of higher vitamin C intakes (100–1,000 mg per day or more), often not looking for (or finding) the "optimal" intake within that range. In terms of heart disease prevention, as little as 100–200 mg of vitamin C appears to be adequate.1 Although some doctors recommend 500–1,000 mg per day or more, additional research is needed to determine whether these larger amounts are necessary. Some vitamin C experts propose that adequate intake be considered 200 mg per day because of evidence that the cells of the human body do not take up any more vitamin C when larger daily amounts are used.2
Some scientists have recommended that healthy people take multi-gram amounts of vitamin C for the prevention of illness. However, little or no research supports this point of view and it remains controversial. Supplementing more results in an excretion level virtually identical to intake, meaning that consuming more vitamin C does not increase the amount that remains in the body.3 On the basis of extensive analysis of published vitamin C studies, researchers at the Linus Pauling Institute at Oregon State University have called for the RDA to be increased, but only to 120 mg.4 This same report reveals that ". . . 90–100 mg vitamin C per day is required for optimum reduction of chronic disease risk in nonsmoking men and women." Thus, the multiple gram amounts of vitamin C taken by many healthy people may be superfluous.
The studies that ascertained approximately 120–200 mg daily of vitamin C is correct for prevention purposes in healthy people have typically not investigated whether people suffering from various diseases can benefit from larger amounts. In the case of the common cold, a review of published trials found that amounts of 2 grams per day in children appear to be more effective than 1 gram per day in adults, suggesting that large intakes of vitamin C may be more effective than smaller amounts, at least for this condition.5
Ascorbyl palmitate, often sold as "vitamin C ester," is formed from ascorbic acid and palmitic acid creating a fat-soluble form of vitamin C that is sometimes used as an antioxidant food additive (E number E304). Oral supplements of ascorbyl palmitate are less effective, as it breaks down into its components before being digested
.
Possible Deficiencies
Although scurvy (severe vitamin C deficiency) is uncommon in Western societies, many doctors believe that most people consume less than optimal amounts. Fatigue, easy bruising, and bleeding gums are early signs of vitamin C deficiency that occur long before frank scurvy develops. Smokers have low levels of vitamin C and require a higher daily intake to maintain normal vitamin C levels. Women with preeclampsia have been found to have lower blood levels of vitamin C than women without the condition.6 Women who have lower blood levels of vitamin C have an increased risk of gallstones.7
People with kidney failure have an increased risk of vitamin C deficiency.8 However, people with kidney failure should take vitamin C only under the supervision of a doctor.
Best Form to Take
Vitamin C can be taken as ascorbic acid (a weak acid) or in buffered forms (such as sodium ascorbate, calcium ascorbate, or other mineral ascorbates). Buffered forms may be less likely to produce gastrointestinal distress, but they may be more likely to deliver excessive amounts of minerals.9
There is some limited evidence to suggest that vitamin C from natural sources (such as citrus extract) is more bioavailable than synthetic vitamin C, although natural vitamin C is more expensive. Therefore, it may make sense to take synthetic vitamin C and to obtain additional flavonoids and supporting nutrients from eating more fruits and vegetables.10
One trial found that Ester-C, a proprietary vitamin C product, was not more bioavailable than ascorbic acid.11
Fat-soluble forms of vitamin C (such as ascorbyl palmitate) are not to be preferred since vitamin C is naturally a water-soluble compound.12
Copyright © 2022 TraceGains, Inc. All rights reserved.
Learn more about TraceGains, the company.
The information presented by TraceGains is for informational purposes only. It is based on scientific studies (human, animal, or in vitro), clinical experience, or traditional usage as cited in each article. The results reported may not necessarily occur in all individuals. Self-treatment is not recommended for life-threatening conditions that require medical treatment under a doctor's care. For many of the conditions discussed, treatment with prescription or over the counter medication is also available. Consult your doctor, practitioner, and/or pharmacist for any health problem and before using any supplements or before making any changes in prescribed medications. Information expires December 2022.