Sharps Disposal Container Buying Guide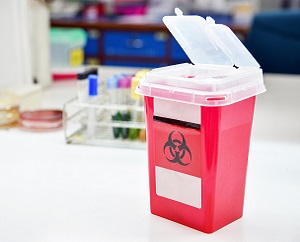 Some medical activities require equipment that punctures the skin or containers of chemicals that can be hazardous when not administered properly, such as syringes, lancets, blades, and contaminated glass, referred to collectively as "sharps." Sharps containers are designed for convenient and safe disposal—and often required by law. They are usually red, although some are yellow or white, and are imprinted with the biohazard symbol on the front.
Sharps Containers

What they are:Well-made sharps containers will be durable, puncture-resistant, and leak-resistant, as well as extremely difficult to open once sealed.

What to buy:Determine the size you need based on how many times a day you check your blood sugar and take insulin—make sure it's large enough to accommodate both the size and quantity of needles you're using.

Things to consider:Pay attention to where and how you insert lancets and needles so it's easy for you to use. Some sharps containers have temporary lids; some cannot be reopened once closed. If you have children in your house you should choose a container that cannot be opened.

For ease of disposal, choose a sharps container that includes returns via the US Postal Service. The cost of mailing and destruction of the medical waste are included in the purchase price, making disposal convenient and affordable. If you choose a sharps container that does not include disposal, check on the local laws regarding medical waste disposal before putting sharps in your regular garbage.